Name
Fuji Capsule Co., Ltd.
Address
4242-1 Kitayama, Fujinomiya-shi,
Shizuoka 418-0112 JAPAN
Phone
+81-544-59-0010
FAX
+81-544-59-0033
URL
Fuji Capsule Co., Ltd. http://www.fujicapsule.com/
Contact
Pharmaceutical Research Institute
Phone: +81-544-59-0031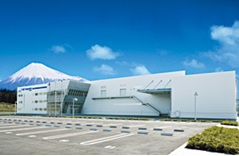 Our Strength
Since the company's foundation in 1948 in Fujinomiya City, Fuji Capsule has been operating its business and specializing in soft capsule production. The company currently owns two manufacturing plants within the city for contract manufacturing of pharmaceutical products.
In March 2014, Fuji Capsule set up an Innovation Center as the company's new challenge.
This Innovation Center will strengthen Fuji Capsule by accelerating R&D and improving capsule formulation technology based on the experience to supply high quality products to the market in a faster timeline.