Name
Nakakita Yakuhin Co.,Ltd.
Address
Aichi Prefecture Tsushima city,
Shirahama-Cho Bamba 52-1
Phone
+81-567-32-1431
FAX
+81-567-32-2961
URL
http://www.nakakita.co.jp/
Contact
Nakakita Yakuhin Co.,Ltd.
Phamaceutical plant Division Production Dept.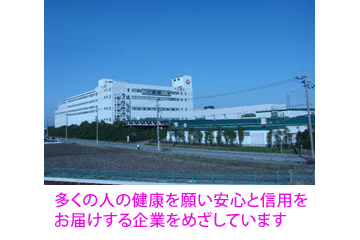 Our Strength
Nakakitayakuhin started to manufacture of medicinal chemicals in 1922. Since moving production to Tsushima factory in 1991, we built the production facilities of liquid formulation that adopted the aseptic manipulation as a entrusted manufacturer.
We will try to pursuit of "improvement of the quality and safety, steady supply, and low cost" as a liquid formulation factory.
Based on our corporate philosophy that is "Trust, Honesty, and Simple", we provide a good quality service to establish a partnership with our customers.

Strong Point
UF water is used to manufacturing. The tank, plumbing, and filling machine is sterilized with PS. We have 34 tanks that capacity is 150~27,000L, and 8 production lines. We mainly produce a liquid formulation of glass bottle , plastic bottle, and aluminum stick by these facilities.

In addition, we built the factory of liquid formulation in Kitahiroshima-city, Hokkaido, and which started production management in June, 2016.

We, Tsushima and Waatsu factory will try to more develop "improvement of the quality and safety, steady supply, and low cost". And we try to be trusted, and try to suggest to each custumar.