| | |
| --- | --- |
| Name | TAIYO Pharma Tech Co.,Ltd. |
| Address | 4-38,Aketa-cho,Takatsuki-shi,Osaka 569-0806 Japan |
| Phone | +81-72-682-1181 |
| FAX | +81-72-682-8489 |
| URL | https://www.taiyo-pt.co.jp/en/ |
| Contact | Sales Division For solid dosages, Inoue / For Injections, Honda |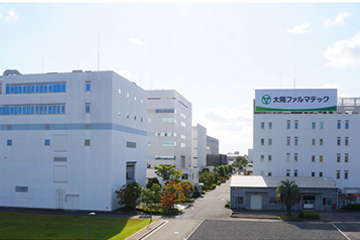 Our Strength
TAIYO Pharma Tech Co., Ltd., as CMO, mainly manufactures solid dosages and injections. We provide the products of high quality at low cost under an advanced GMP management.
We have an integrated production system for solid dosages, from tablet production to packaging. We are equipped with the automated and advanced computer system and manufacture the excellent products through 24-hour operation, aiming to contribute to people's well-being.
As for inject products, we have the state-of-the-art equipment such as Isolater, RABS (Restricted Access Barrier System) to supply ampules, vials and syringes products designed for user's convenience. We also provide freeze-dried vials and biological products, that require the sophisticated production management and quality assurance system.
We will make a continuous effort to meet every customer's needs as a truly competitive CMO and realize the stable supply of quality products, low cost and high productivity.